Johan tuosta
Helloconista
onkin aikaa, joten päivitelläänpä asiaa sieltä suunnalta viimein. Joka vuosi on ollut suunnitelmana osallistua kyseiseen tapahtumaan, mutta vasta tänä vuonna oikeasti pääsin tapahtumassa käymään. Hellocon, eli siis
Helsinki Lolita Convention
on pohjoismaiden suurin lolita-tapahtuma, joka järjestettiin tänä vuonna kolmatta kertaa Helsingin Glorialla. Tulin tapahtumaan yksin, mutta paikan päällä tapasin monia tuttuja ja uusia tuttavuuksia. Ei siis tarvinnut yksin mekonhelmaa nurkassa hermostuneesti räpläillä.
Well, the time has flown since Hellocon so I will finally try to write something about it. Hellocon, or Helsinki Lolita Convention, is the biggest lolita convention held in the Nordic countries and this year it was arranged for the third time. This year was the first time that I was able to visit the event. I arrived there alone but found many of my friends and new acquaintances, therefore I didn't have to be alone even for a moment.
Asuni / My Outfit
Mekko / dress :
Surface Spell - Bourbon Dynasty jsk
Alusmekko / underdress :
Infanta - Tea Party op
Hattu / hat :
Rosa Nitida
Peruukki / wig :
eBay
Photo: Katri Tenhunen
Tänä vuonna Helloconin kunniavieraana olivat
Angelic Pretty
-brändin suunnittelijat
Maki
ja
Asuka
. AP:lla oli myös tapahtumassa oma myyntipöytänsä, jonka luokse löysi koko tapahtuman ajan megalomaanista jonoa seuraten. Minulle sweet lolita on aina ollut lolitan vähiten kiinnostavaa aluetta, vaikka tykkäänkin katsella suloisia coordeja muiden päällä. Siksi AP:n läsnäolo ei minussa varsinaista polvien tutinaa aiheuttanut, vaikka olinkin iloinen, että niin menestyvä ja laadukas brändi oli Suomivierailulla. Huomasin kuitenkin kummastuksekseni huokailevani ihastuksesta, kun katselin AP:n sinistä
Belle Epoque Rose jsk
:ta. Myös useita muita myyjiä oli paikalla, itse esimerkiksi ostin korealaisen lolitabrändi
Baroquen
myyntipöydästä
viime postauksessa
mainitsemani mekon. Mukana olivat myös
Eat Me Ink Me, Madame Chocolat, Lolitabutiken, Cute Story Shop, Sweet and Tiny, Moon Bunny, Kuura Reign, Miss Danger
(parhaita hiuskoristeita ja hattuja ikinä),
Cloudberry Lady, Dream Holic, Grimoire, Lady Sloth
ja
Talking to myself.
The guests of honor this year were the designers of Angelic Pretty, Maki and Asuka. AP also sold their clothes at the venue and there was a super long line in front of their table all the time. Personally, I have never been too excited about sweet lolita, therefore I was not particularly interested in their collections. However, I do like to see sweet lolita worn by others and I liked AP's Belle Epoque jsk in blue. Anyway, I was very happy and proud the see such a popular brand designers visiting Finland. Hellocon also had many other vendors, such as Korean lolitabrand Baroque (I mentioned the dress that I bought from them in my previous post), Eat Me Ink Me, Madame Chocolat, Lolitabutiken, Cute Story Shop, Sweet and Tiny, Moon Bunny, Kuura Reign, Miss Danger (best hats and hair accessories ever), Cloudberry Lady, Dream Holic, Grimoire, Lady Sloth and Talking to myself.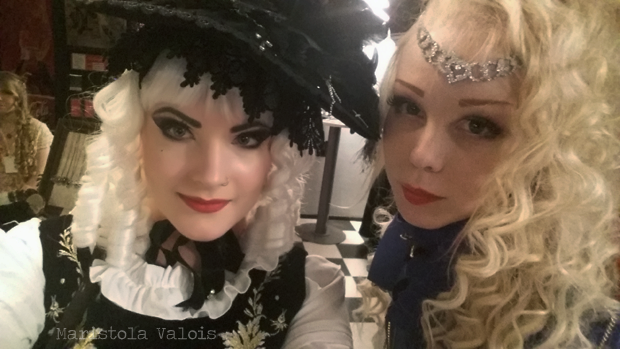 Yhteiskuva upean Iiran kanssa. Tämä kaunis nainen on takapiru Rosa Nitidan takana ja siis vastuussa upeasta hatustani. / Photo with beautiful Iira. This lady is the designer behind Rosa Nitida and also responsible for the amazing hat that I was wearing.
Minulla koko tapahtuma meni lähinnä kulttuurishokkeilussa, Ympärilläni liehui toinen toistaan upeampia ja kokeneempia lolitoja! Vaikka olenkin ollut kiinnostunut lolitasta
Manan
ja
Malice Mizerin
kautta sen kymmenen, yksitoista vuotta, en ole vakavissani pukuillut kuin ehkä vuoden päivät. Tälläkin hetkellä loleiluni on hyvin säännöllisen epäsäännöllistä, joskin pukuilutahtini on etenkin viime aikoina ollut varsin nousujohdanteista. Sen verran tyylitajuuni kuitenkin uskallettiin luottaa, että pääsin osallistumaan leikkimieliseen
Pimp my Ruffles
-nimiseen ohjelmanumeroon, jossa jokainen stailisti sai pukea mallinsa haluamaansa lolitatyyliin. Minun mallini oli suloinen Nea, jonka synkistytin
Moi-même-Moitié
voittoisella EGA-coordilla. Tyylimuutos sweettarista gothiciksi oli suosiokas ja kipusimme kilpailussa voittoon asti. Meidät palkittiin ihanalla Hellocon-tuotepakkauksella, joka sisälsi kirjanmerkin, julisteen sekä postikortteja.
The whole event for me was kind of a culture shock. I saw so many unbelievably beautiful and experienced lolitas! Even though I have been interested in lolita because of Mana and Malice Mizer for about ten or eleven years already, I started to dress in lolita more regularly only about a year ago. Even today I tend to dress in lolita and attend to meetups only rarely, though I have noticed that lolita has slowly started to eat more and more of my time. Nevertheless, Hellocon team trusted in my sense of style that much that I was asked to attend this playful Pimp my Ruffles competition. We had to re-style our models to represent some other lolita style that they usually express. My model was sweet Nea and I transformed her into dark EGA lady with Moi-même-Moitié. The judges liked her new style and we actually won the competition. Our prizes were bags filled with pretty Hellocon goods.
Stailistit ja mallit / Stylists and models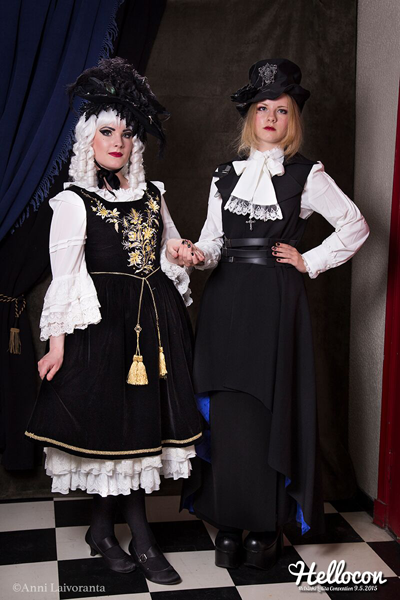 Nea ja minä Pimp my Ruffles-ohjelmanumeron jälkeen / Nea and I after the competition
Photo : Katri Tenhunen
Tapahtuman jälkeen Gloria pysyi auki vielä iltabileiden merkeissä ja juhlijakansaa viihdytti japanilainen poppari
HITT
. Täysi-ikäisten oli myös mahdollista nauttia alkoholijuomia yläkerrassa. Oivallinen keksintö olivat mielestäni brändien nimiä kantavat drinkit. Kuvassa näkyvän AP -drinkin ja Moitié shotin lisäksi tarjolla oli vielä Baby The Stars Shine Bright -drinkki.
After the main event Gloria stayed open and a Japanese pop singer HITT performed. Alcohol was served for guests over 18 years old. There were three drinks sold at the venue that were
named after lolita brands
. The one that isn't visible in the picture below was a Baby the Stars Shine Bright drink.
HITTin keikan jälkeen esiinnyin vielä minä. Iltabileisiin pyydettiin burleskia ja uusinkin sitten debyyttinumeroni, jonka ensimmäisen kerran esitin siis Tampereen Teerenpelissä maaliskuussa. Lookkini oli lolitamuodista inspiroitunut, mutta vapauksia etiketin suhteen olin ottanut roimasti. Jännitin kovasti millaisen vastaanoton saisin burleskiesitykselleni, sillä sanat "seksuaalinen" ja "lolitamuoti" eivät mielellään kulje käsikädessä. Yleisö vaikutti kuitenkin ymmärtävän, ettei burleskihahmoni yrittänyt olla representaatio lolitaan pukeutuvasta henkilöstä, vaan muodista inspiroituminen oli ainoastaan mauste esitykseen. Oli ihana kuulla jälkeenpäin, että esityksestäni oli pidetty ja se kannustaa minua tekemään entistä parempaa ja ammattitaitoisempaa burleskia tulevaisuudessa, kunhan joskus ehdin tähän harrastukseeni taas palata.
After HITT's performance was time for some burlesque! I performed my lolita-inspired number that I had performed once before Hellocon. I was a bit nervous about how people were going to react because lolita fashion and sexuality don't really go hand in hand. However, I think that most of the people understood that the lolita inspiration in my look was really just a spice and my character was not trying to be a representation of a person who wears lolita. After the show I was very delighted to hear that many people had liked my performance very much. That gives me courage to continue learning how to do better burlesque and keep me in the scene also in the future!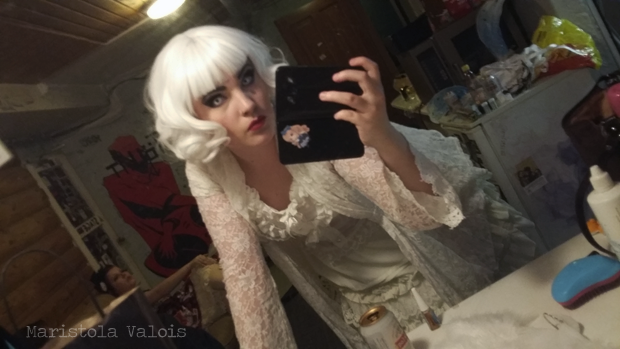 Bäkkäriselfie vähän ennen lavalle nousemista, ennen kuin olin yltä päältä tekoveressä. Valkoiset piilolinssit olivat tähän kokolumiseen burleskinumeroon ehdottomat! / Backstage selfie before going on stage, and before I was covered in fake blood. White contact lenses are a must for this look!
Helloconin oli erittäin onnistunut tapahtuma ja haluaisinkin kiittää kaikkia järjestäjiä mahtavasta kokemuksesta! Ymmärrän kuinka vaikeaa tällaisen tapahtuman järjestäminen voi Suomen kokoisessa maassa olla, joten siis aivan mahtavaa, että Hellocon oli näinkin toimiva paketti! Kiitos myös kaikille tapaamilleni ihanille ihmisille, teitte päivästäni ikimuistoisen!
Hellocon was a very successful event, therefore, I would like to thank everybody who made the event possible! I understand how hard it can be to arrange an event like this in a small country like Finland. Also, thank you everybody who I met at the event! You made my day unforgettable!