Hellocon
on turvallisesti taputeltu ja univelatkin alkavat pikkuhiljaa hellittää. Jaksamisessa sekä kuvasaaliissani ammottaa kuitenkin yhä sen verran iso lommo, että pureudun tässä postauksessa pikaisesti sunnuntaina järjestettyyn lolitamiittiin ja itse Hellocon-tapahtumaan vasta seuraavalla kerralla.
Hellocon is over and I'm slowly starting to wake up from my coma. I cannot write about the event itself yet, since I still lack the photos that I would like to show. I am going to write about a lolita meeting that took place on Sunday, instead, and write about Hellocon next time!
Helloconin ostokset / What I bought from Hellocon
Helloconin jälkeisenä päivänä järjestettiin vielä teekutsut, jonne tapahtuman kunniavieraat, eli
Angelic Prettyn Maki
ja
Asuka
liittyivät mukaan. Kaikki eivät sinne tietenkään lippuja saaneet, mutta hätä ei ollut sen näköinen, sillä ihana
Shadow
järjesti vaihtoehtoisen miitin Helsingin keskustaan. Kaksitoista henkilöä meitä oli miitin alussa ja lopussa muutama vielä lisää. Miitin aikana ihmettelimme ulkoa käsin Helsingin kaupunginteatteria sekä Ateneumia, olimme hetken aikaa kaupungin suosituin turistikohde Senaatintorilla, kävimme ihastelemassa Helsingin tuomiokirkon urkuja ja haistelimme nälkäisinä kauppatorin ruokakojuja.
There was a tea party held after Hellocon in which the convention's quests of honor, Maki and Asuka of Angelic Pretty, participated in. All of us didn't get a ticket to the tea party, of course, but our wonderful Shadow decided to organize an alternative meeting in the center of Helsinki. There were twelve of us in the meeting in the beginning and a few people arrived later. During the meeting we admired the buildings of Helsinki city theater and Ateneum art museum. Then we went to Helsinki Senate Square where we took some photos, went to see the beautiful cathedral and probably were the most popular tourist attraction of the city for a moment. After that we walked to The Market Square near the South Harbor.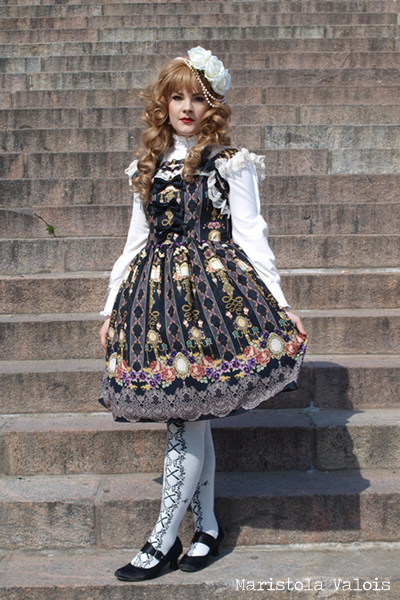 Miittiasuni / My outfit
Mekko / dress : Baroque - Rapunzel jsk
Kauluspaita / blouse : eBay
Sukat / socks : Taobao
Kengät /shoes : -
Peruukki / wig : Bodyline
Hiuskoristeet / hair accessories :
Glitter
Lopuksi nautimme leivoksia Kluuvikadun upeassa
Fazer Caféssa
. En ollut itse asiassa tuossa Fazerin kahvilassa vielä käynyt, mutta nyt sain loistavan tekosyyn kuluttaa yksitoista euroa kakkuun ja kaakaoon. Söinkin ihan valtavan hyvää porkkanakakkua, melkein tuntui synniltä koko syöminen. Pala oli vielä niin iso, että viimeiset haarukalliset tekivät tiukkaa, vaikka en ollut koskenut koko päivänä mihinkään ruokaan ennen sitä.
After the "tour" we went to a huge Fazer Café that is located in Kluuvikatu. I had never visited that particular Fazer café, therefore I had a great excuse to spend 11 euros to a mug of hot chocolate and a piece of carrot cake. It felt like a sin to eat that cake because it was so delicious (and big too)!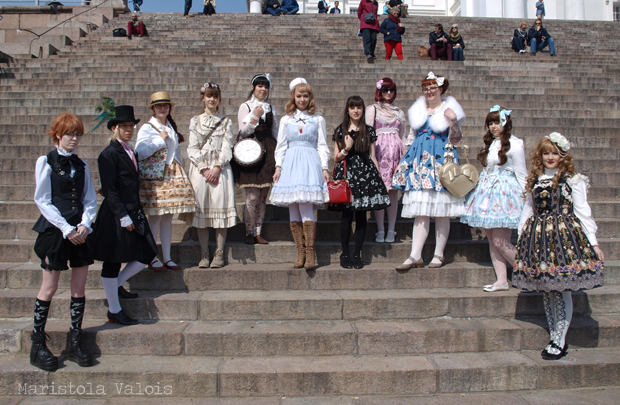 Meidän miittiporukka, tosin valitettavasti ilman miittijärjestäjää. Kiitos ihanasta miitistä kaikille! / Our group, but unfortunately without Shadow. Thank you for the great meeting everyone!
Onnistuneen miitin jälkeen suuntasin Shadow:n ja hänen siskonsa kanssa nepalilaiseen ravintolaan syömään. Siitä liityimme teekutsujen jatkoille, jotka pidettiin
Steam Hellsingissä
, mikä onkin ehkä Suomen henkeäsalpaavimman näköinen baari. Yksityiskohtien määrä paikassa on jotakin uskomatonta, joka ikinen nurkka on nimittäin mietitty viimeisen päälle. Ärsyttää hieman, että ei tullut otettua kuvia siellä, mutta internetin ihmemaa toki tarjoaa kuvamateriaalia kyseistä paikasta ilman minunkin työpanostani. Ilta meni maukkaiden drinkkien voitelemien hyvien keskustelujen sekä tanssiaskeleiden merkeissä.
After the great meeting we headed to a Nepalese restaurant with Shadow and her sister and then joined the after-party of the tea party at Steam Hellsinki that has to be the most stunning bar in Finland. Every single little detail at the bar is well-thought-out! I am a bit sad that I didn't take any proper photos there! The evening was wonderful. We had good conversations and great drinks, a little bit of dancing too.
Yksi avuton kuva baarista, moi. / One desperate photo from the bar