Minulta on kysytty muutaman kerran meikkitutoriaaleja, mutta olen aina kokenut, että taitoni eivät ole niin kummoiset, että voisin mitään uutta ja hienoa tarjota. Tällä kertaa ajattelin kuitenkin, että tuskin yksi tutoriaali haittaakaan tekee. Tällä kertaa opetan siis tekemään helpon nukkelookin, joka on täydellinen esimerkiksi photoshootteihin. Meikkilook sopii eritoten gothic lolitan kanssa, mutta mikäli riisuu hieman tätä tutoriaalia, saa tästä varmasti hempeämpäänkin loleiluun inspiraatiota. Joidenkin mielestä tämä look voi olla liian dramaattinen käytettäväksi, mutta hei, milloin viimeksi olen muka meikannut kevyesti? Joten antaa palaa!
People have asked me to do makeup tutorials but I've always felt that I don't really have anything new to offer. Besides, I'm definitely not a makeup artist either. This time I, however, decided that one tutorial can't do any harm. I'm showing you a way how to look like a doll. This look goes well with gothic lolita and it is perfect for photoshoots. If you tone down this look a little bit, it is also suitable for sweet lolita. Some people might think that this makeup is way too dark and dramatic to use but hey, when was the last time you saw me wearing simple and cute makeup? So, let's get to the tutorial!

1. Käytän tässä tutoriaalissa kosmeettisia piilolinssejä. Omani ovat Magic Eye 2-Tone - Green Malachite -linssit. Voit käyttää myös circle lenseja! Linssien jälkeen aloita pohjustamalla silmien alue meikkivoiteella.
I use contact lenses in this tutorial. I'm using Magic Eye 2-Tone - Green Malachite -lenses but feel free to use circle lenses, if you like! After lenses start with applying foundation around your eyes.

2. Käytä ylimpänä luomivärinä vaaleaa violettia. Suurentaaksesi silmiäsi, piirrä kaari tavallista ylemmäs, kohtaan, missä kulmaluu alkaa jo tuntua. Luomiväri: Lime Crime - Love Potion #9 (Alchemy Palette)
Use light purple as your first eye shadow and add it near your browbone in order to make your eye area appear bigger. My eyeshadow: Lime Crime - Love Potion #9 (Alchemy Palette)

3. Häivytä rajoja pehmeällä siveltimellä.
Blend in harsh lines with soft bursh.

4. Jotta vaikuttaisi siltä, että silmäluomesi alkaa ylempää, piirrä tummemmalla violetilla luomivärillä ohut viiva edellisen alapuolelle. Luomiväri: Sugarpill - Poison Plum (Burning Heart Palette)
So that we could make your eyes appear even bigger, draw a new thin crease line a little bit higher than the real one is. Use darker purple. My eyeshadow: Sugarpill - Poison Plum (Burning Heart Palette)

5. Jälleen kerran häivytä vahvat rajat.
Again, blend in.

6. Levitä silmäluomelle valkoista, tai todella vaaleaa luomiväriä. Itse käytin Grimasin puhtaanvalkoista maskeerausväriä (se on itse asiassa Créme-meikkivoidetta) ja painelin sormella päälle valkoista Da Vincin irtoluomiväriä. Vie väri silmän sisäsyrjään asti, sillä se antaa silmille valoa.
Add white eyeshadow on your eyelid using your finger. I used pure white Créme-foundation from Grimas and then dabbed Da Vinci's with eyeshadow on top of it. Remember to bring the white to your inner eye corner too, it gives light to your eyes.

7. Piirrä cat eye nestemäisellä eyelinerilla, mutta vedä se pidemmäksi kuin tavallisesti vetäisit. Eyeliner: Rimmel - Glam'eyes Professional Liquid Liner (black)
Draw a cat eye using liquid liner but make it longer than you would normally do.
Eyeliner: Rimmel - Glam'eyes Professional Liquid Liner (black)

8. Täytä ääriviivat, joko samalla eyelinerilla tai geelikajaalilla. Korvasin geelikajaalin Maybellinen mustalla Color Tattoo 24hr-geeliluomivärillä. Käyttäen joko tätä väriä tai tavallista kajaalikynää, piirrä hieman silmäsi alapuolelle musta kaari, joka suurentaa silmiäsi. Mitä alemmas sen piirrät, sitä dramaattisempi lopputulos. Häivytä viivaa hieman sormellasi.
Fill in the outlines with the same liquid liner or use gel eyeliner. I actually used Maybelline's black Color Tattoo 24hr-gel eyeshadow. With your gel eyeshadow or regual pen eyeliner draw a line under your eye. The look keeps getting more dramatic depending on how low you draw the line. Blend in the line a little bit with your finger.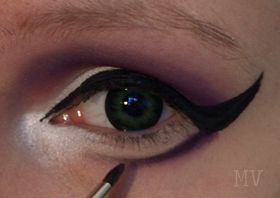 9. Lisää kolmiulotteisuutta lisäämällä viivan alapuolelle violetti varjo.
Add more dimension to the line by adding a purple shadow under it.

10. Sen jälkeen lisää ylä- ja alaripset ja anna liiman kuivua. Kannattaa liimata yläripset hieman korkeammalle kuin tavallisesti. Piirrä sen jälkeen kulmasi. Ohuet graafiset kulmat tuovat keinotekoisen ja nukkemaisen vaikutelman. Voit käyttää myös vaaleampaa väriä. Lisää kulmakarvan alle kulmaluulle shampanjanväristä tai valkoista luomiväriä valoa tuomaan. En osaa sanoa mitä ripsiä tarkalleen käytin, sillä kyseessä ovat jotkut vanhat Ebayn ihmeet, joissa ei lue mallia. Aika moni malli kelpaa joka tapauksessa. Alaripset voit myös helposti leikata yksinkertaisista ja harvoista yläripsistä.
After that step, add false lashes and fill in your brows. You should glue the upper lashes higher than you would normally. Thin and graphic brows make your face appear more artificial and dollish. You can use lighter brow color than I did, if you wish. Add some white or champagne-colored eyeshadow under your eyebrows to give more light to your eyes. By the way, I have no idea which lashes I'm wearing in this look. They are just some random lashes from Ebay. Pretty much every basic fake lashes will do just fine.

11. Silmät ovat valmiit! Seuraavaksi pohjusta ja puuteroi kasvosi meikkivoiteella. Rajaa meikkivoiteella huulesi hieman pienemmiksi.
Eyes are done! Now add foundation and powder to your face and with foundation line your lips a little bit smaller than they are.

12. Sen jälkeen lisää hempeänväristä huulipunaa. Jos haluat, että huulipuna pysyy paremmin, lisää sitä usemapi kerros ja aina kerrosten lisäämisen välissä paina huuliasi esimerkiksi vessapaperilla, jotta ylimääräinen väri imeytyy pois. Jotta saat amorinkaareesi valoa, hipaise sille shampanjanväristä luomiväriä. Huulipuna: Rimmel - Lasting Finish Matte Lipstick by Kate (101), luomiväri: Lime Crime - Spellbound (Alchemy Palette)
Add baby pink lipstick. If you want that your lipstick stays on longer, add more layers. Between each layer, dab your lips gently with paper (toilet paper will do) so that the excessive color gets stuck on the paper. Higlight your Cupid's bow by adding some champagne-colored eyeshadow on it. Lipstick: Rimmel - Lasting Finish Matte Lipstick by Kate (101), eyeshadow: Lime Crime - Spellbound (Alchemy Palette)

13. Halutessasi lisää keskelle huuliasi jotakin tummemmansävyistä huulipunaa, tai huulikiiltoa. Itse käytin Dermosilin tummanpunaista huulikiiltoa (joka näyttää livenä paremmalta kuin tässä kuvassa).
If you like, use darker lipstick on the center of your lips. I used dark red lip gloss from Dermosil (which looks way better in real life than in this picture, by the way).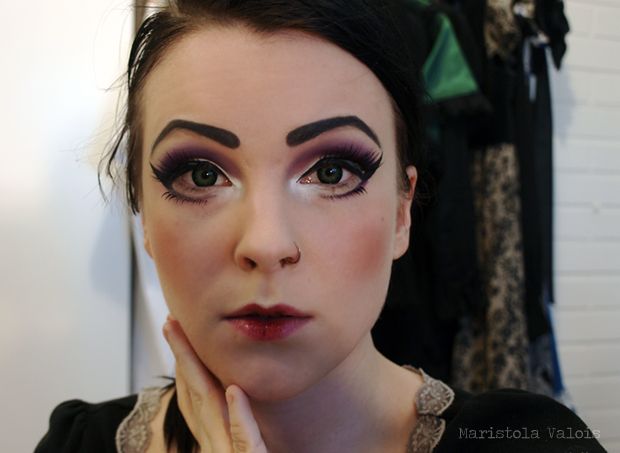 14. Lisää hempeänpinkkiä poskipunaa poskipäillesi ja voilà! Lookkisi on asustamista vaille valmis.
Finally add some cute blush to the apples of your cheeks and voilà! Your look is done.

Tee asusteilla itsestäsi juuri niin supaa kawaii kuin haluat. Hämmästele sitä, miten et näytä yhtään itseltäsi peilistä katsottuna.
Wear something supaa kawaii in order to look like a doll and get shocked everytime you look into the mirror.
Toivottavasti tutoriaalista oli joillekin apua. Pitäkää kivaa ^-^
I hope that this tutorial was helpful to some of you. Have fun with it ^-^