Tervehdys kaikille! En ole Tokio-postauksien jälkeen sen kummempia vaateostospostauksia tehnyt, joten ajattelin hieman päivitellä sitä, mitä vaatekaappiini on ilmestynyt. Kaikkea tuskin tässä listaan, mutta mieleenpainuvimmat hankinnat ainakin. Aikaväli hankintojen välillä on itse asiassa melko pitkä, sillä esimerkiksi mekot ovat olleet minulla jo kuukausia.
Hello everyone! I haven't really updated what's going on in my wardrobe after my Tokyo posts, therefore I decided to do it now. I won't list every single piece of clothing that I've bought, only the most interesting ones. Some of these I've actually bought a long time ago.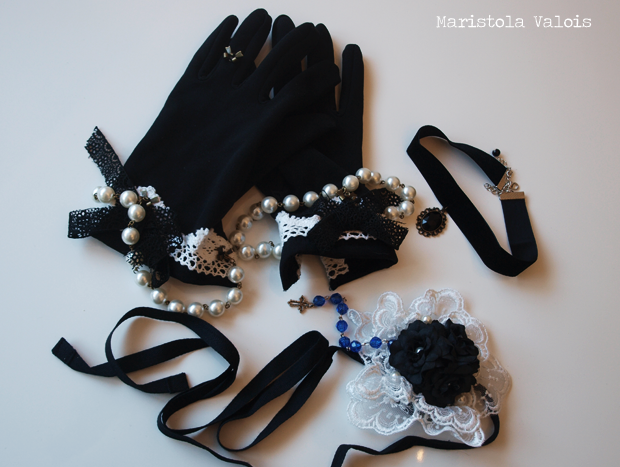 Taobaolta
toimitettiin minulle eilen nuo aivan ihanat hansikkaat helmi- ja rusettikoristeilla. Yllätyin miten paksut hanskat ovatkaan. Ne lämmittävät oikeastikin syyskeleillä ulkoillessa. Hanskojen lisäksi myös koru on Taobaolta. Taisi maksaa vaivaiset neljä dollaria. Pääkoriste on ostettu Facebookin
Lolita & Gyaru -kirpputorilta
.
Those beaaautiful gloves with lace and fake pearls are from Taobao and so is that choker. I was surprised how warm the gloves actually were. They really protect my hands in this weather. That headdress is bought from a Finnish lolita group in Facebook.
Myös sukat ja suloinen bonnet ovat Taobao-paketin sisältöä. En kuuden dollarin bonnetilta odottanut paljoakaan, joten yllätyin miten laadukas ja jämäkkä päälärppä itse asiassa onkaan.
Also the socks and the sweet bonnet are from Taobao. The bonnet cost like six dollars so I didn't expect it to be so stiff and well-made.
Tämä mekko on ostettu jo kesällä
Sheinsiden
sivuilta. Rakastuin printtiin ikihyviksi kuvan nähtyäni ja livenä kankaan kuva on itse asiassa vielä sievempi.
I bought this dress in the summer from Sheinside. I fell in love with the print when I saw it online!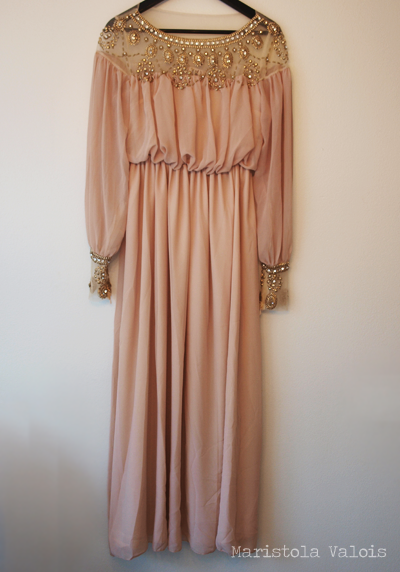 Myös tämä maksimekko on tuosta samaisesta kaupasta. Vielä vuosi sitten olisin tuskin uskonut, että IKINÄ vetäisin mitään tällaista päälleni, etenkään tuossa värissä, mutta näin se maku muuttuu. On yksi lempimekoistani nyt, nimittäin.
Also that maxi-dress is from Sheinside. About a year ago I would NEVER had thought that I will buy a dress like this, especially if it's peach-colored. But my taste in clothes has changed and now this dress is one of my favourites.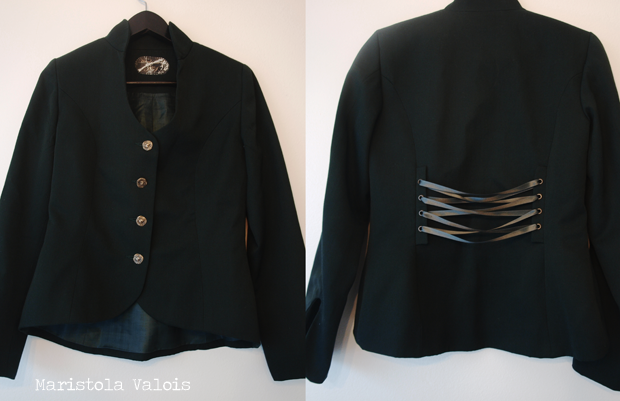 Ahkeralla koluamisella tekee löytöjä myös
UFF
ilta (Itäkeskuksen liike) ja löysin tämän aivan upean vihreänsävyisen jakun selkänyöreillä. Korkeakauluksisen paidan kanssa jakku näyttää hurjan hyvältä.
That greenish jacket I found from UFF second hand shop in Helsinki. It looks so good with a high neck blouse!
Jee. Tuossapa kaikki mainitsemisen arvoinen. Juuri nyt odottelen lähtöä oppilaitokseni 90-vuotisjuhliin, jossa teemana on
Akatemian menneet vuosikymmenet
. Itse ajattelin mennä 20- ja 30-luvuista inspiroituneella lookilla. Siitä kuvia tulevaisuudessa!
Yayy. That's about it. Soon I'm going back to school to celebrate its 90th birthday. The dress code for the party is "decades of the Academy" and I'm going to wear a look that is inspired by the 20's and 30s. Photos will come later!