Kevät ryömi lumen alta! Mikäs sen parempi tapa juhlia sitä kuin... pukeutumalla mustaan. Vierailin ystäväni
pikakahvin
luona ja hän - armas hovikuvaajani - näpsäisi todistuksen siitä, että vaivauduin pitkästä aikaa laittautumaan.
Spring has arrived! What could be a better way to celebrate it than to... dress in black. I visited pikakahvi's place and she took these photos since I had made some effort to look good after a long time.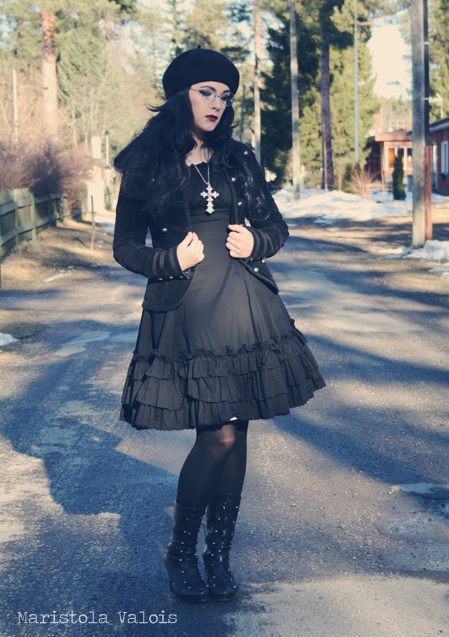 Hattu / hat: eBay
Peruukki / wig: eBay
Lasit / glasses: Varusteleka
Koru / pendant: eBay
Takki / jacket: Cybershop
Mekko / dress: Victorian Maiden
Kengät / shoes: Styrman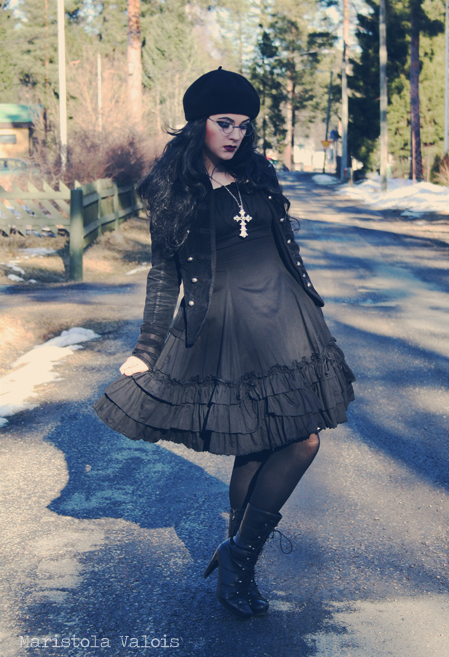 Huomasitte varmaan myös mystisen englanninkielisen sepostukseni merkinnän alussa. Yritän kirjoittaa blogimerkintöihini tästä lähtien englanniksi edes tiivistyksen, sillä täällä näyttää vierailevan myös ulkomaalaisia.
And yes, I'm starting to translate my posts in English from now on, or at least I'm going to add an English summary in the end of the entries that I write. Most likely I won't be translating whole texts because the lack of my translating skills. However, I hope that from now on some people will get more out of my blog than when it was only in Finnish.
(Tags are still in Finnish, sorry!)